Thursday, February 2, 2023 / by Amy Brown
Amid all the blaring national headlines of falling home sales and price declines, with all the anecdotes of listings that would have sold in hours last year sitting for months, against a background of increasingly likely recessionary conditions, the most important question is, what is really happening in the WNC market?
Real estate values and behavior are very region specific and this is an extremely important fact to take note of. While the nation, as a whole, generally speaking, took a beating in 2007, many markets saw a very small decline or no impact at all. These markets are called "recession proof or recession resistant" real estate markets. What makes a market recession proof is desirability, climate, and a steady population growth across multiple demographics. Western North Carolina is one of these markets! Let's take a look at what really happened in our market back in 2007.
According to the principal economist at CoreLogic,
an Irvine, CA-based corporation providing financial, property, and consumer information, analytics, and business intelligence, North Carolina, statewide, saw a 15% decline in property values during the height of the last recession in 2007. Hardest hit states such as Florida, California, Nevada, and Idaho saw a 41-60% decline.

The Asheville market was even less than that, tracking at less than a 10% decline. Since that time, North Carolina has averaged a 25% INCREASE in year over year market value gain with an overall home value increase of 29% for the Asheville area.
If you are waiting for a drastic housing market decline in WNC, that is not going to happen this year or at any time in the near future. Here's why:
We are the 5th most popular real estate market in the country due to the mild climate, recreational opportunities, and the recent influx of major corporations such as the new Pratt & Whitney aeronautics manufacturing plant in Arden, making jobs more plentiful and bringing young professionals who are also outdoor enthusiasts to the region.
Also, with the buying boom of 2020-2021 and homeowners grabbing interest rates in the 3-4% range, they are not selling any time soon. The severe reduction in inventory along with the increased demand as we go into the Spring buying season has caused another price surge approaching the $600,000 average home price mark.
Falling inventory: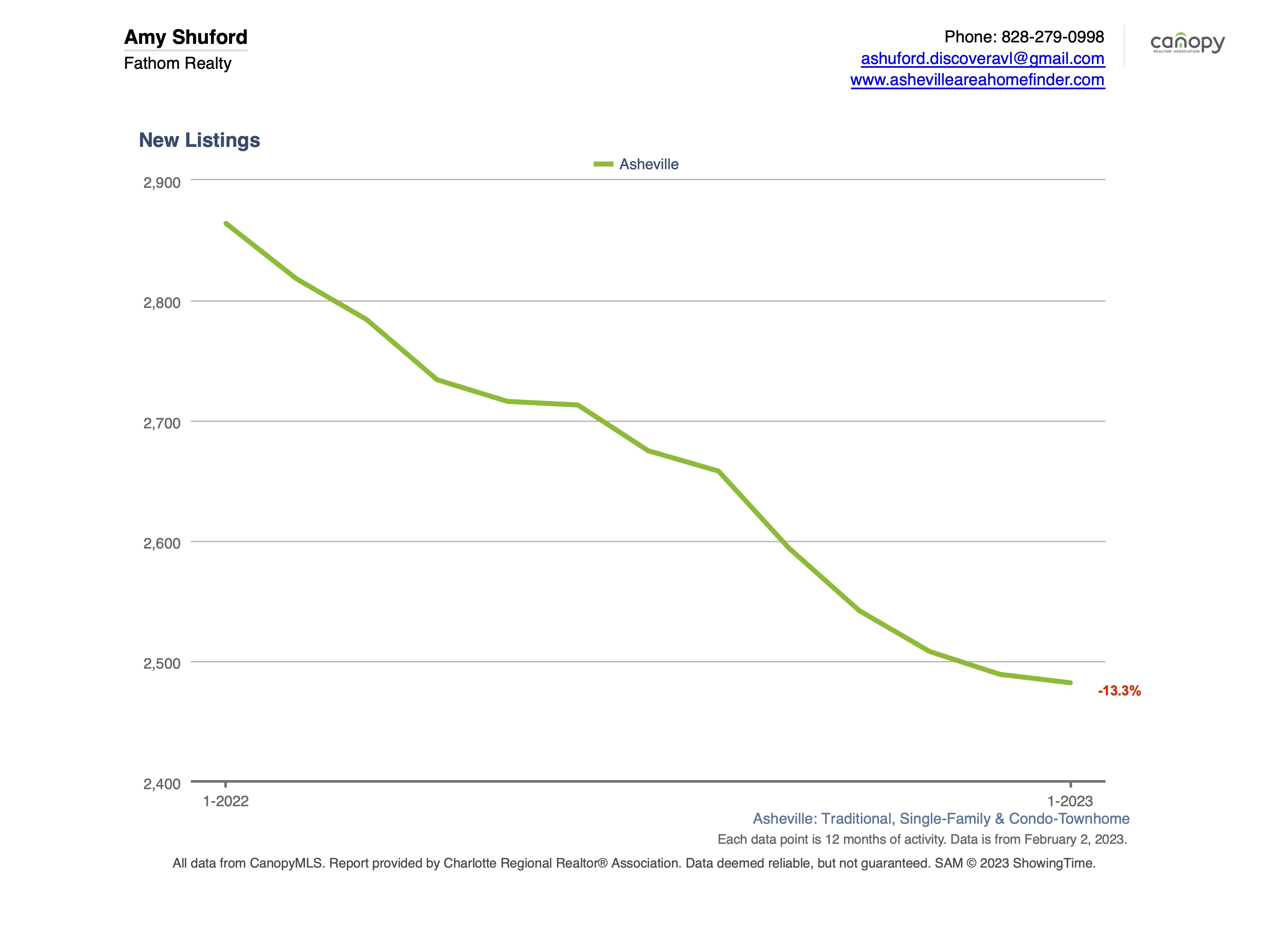 Price increase to date: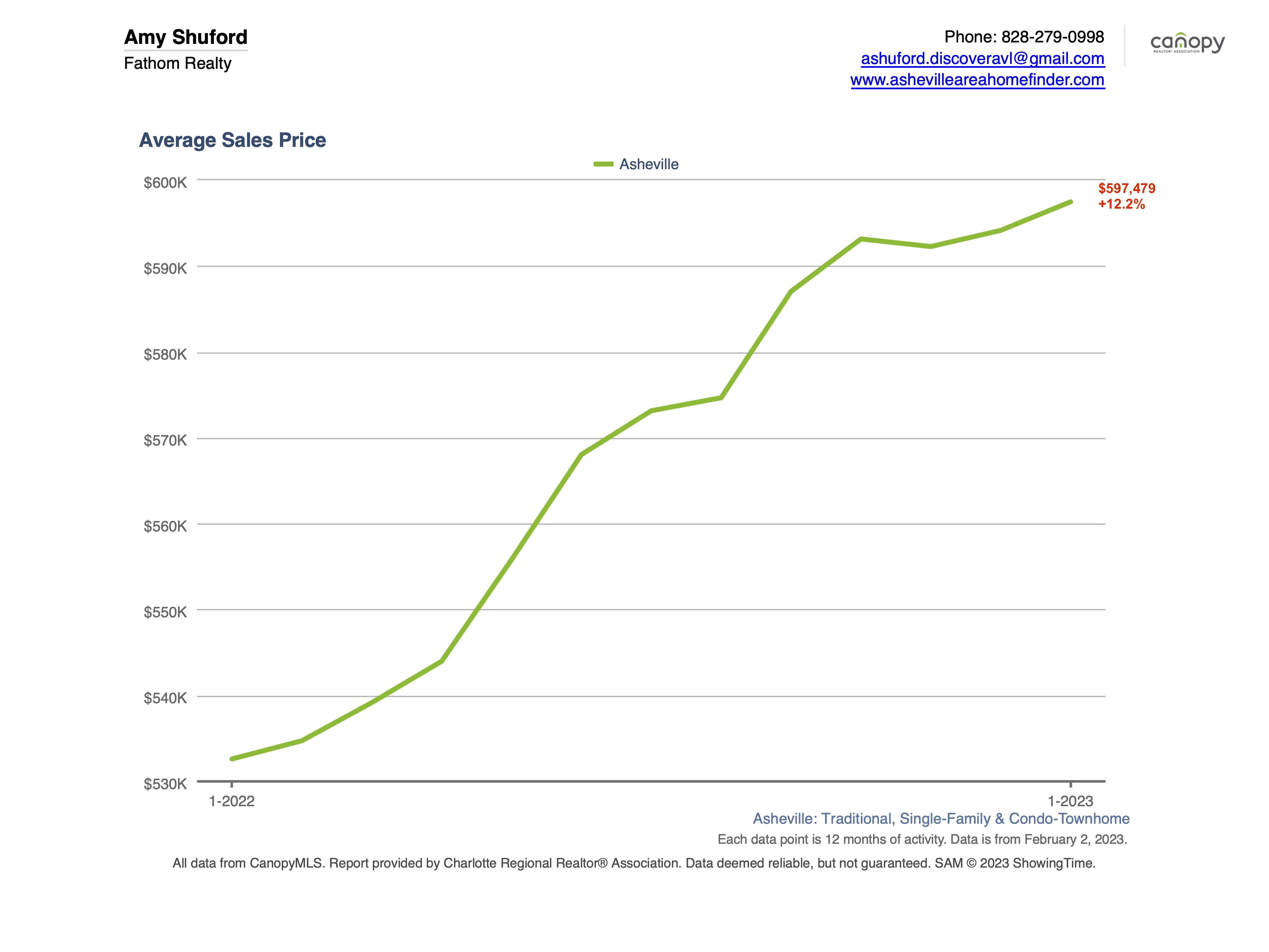 What are your options?
First of all, stop waiting! Prices are only going to get higher as the year goes on.
Secondly, wrap your mind around compromises. Make a list of what you need vs. what you want. For example, if you need a certain size home but you are on a limited budget, then consider options in rural areas instead of being in the city.
And thirdly, talk to your mortgage broker about rate projections and get pre-qualified! You are going to need to move quickly once you find a home that you love and a pre-approval letter or proof of funds from your bank is a requirement for submitting an offer.
My greatest asset to you as a homebuyer or seller is as an educator. I am here to assist by managing expectations to save you frustration during the real estate process.
I have lived here for my entire life. Let me help you on this journey!