Saturday, December 10, 2022 / by Amy Brown
When you are on the lookout for something special and unique that is more seasonably desirable, such as a lakefront home, the best time to purchase is during the off season. To get the best deal, summertime properties should be purchased in the winter and though it may be hard to wait to enjoy it, you will have time to get the home ready so that when the warm weather comes your summer house is ready to go!
The go-to search location in WNC is always Asheville but what a lot of people don't realize is that Asheville does not have any major lakes in its immediate vicinity. But we do have a lot of beautiful lakes within a 1 hour drive.
The lakes that you will want to look into for lakefront enjoyment are: Lake James, Lake Lure, Lake Fontana, Lake Santeetlah, and Nantahala Lake.
Lake James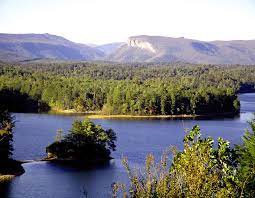 Lake James is located in Nebo, NC; a short 45 minute drive to the east of Asheville. Nebo is not really a town but it is located right by Marion which will have everything that you need. The lake is surrounded by slick rock mountain faces with gorgeous views, has numerous boat landings, and several marinas where you can gas up and grab something to eat. Lake James is also home to the Lake James State Park with 22 miles of hiking trails, a purpose built mountain bike track, and a sandy beach.

2710 Hemlock Ct., Nebo
https://www.zillow.com/homedetails/2710-Hemlock-Ct-36-Nebo-NC-28761/2061228814_zpid/

2225 Mallard Cove Dr., Nebo
https://www.zillow.com/homedetails/2225-Mallard-Cove-Dr-Nebo-NC-28761/227239122_zpid/

61 Magnolia Dr., Nebo
https://www.zillow.com/homedetails/61-Magnolia-Dr-Nebo-NC-28761/102210295_zpid/

Lake Lure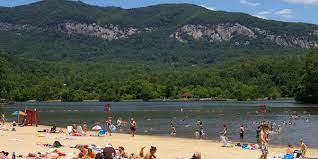 Lake Lure is its own township and is located 45 minutes to the southeast of Asheville. It can easily accessed through Black Mountain and Hendersonville as well. Lake Lure is a cute little mountain town with lots of short term vacation rentals, lakefront restaurants, and the charming Lake Lure Inn. It also hosts the Dirty Dancing Festival every year in honor of the famous water lift scene performed in the movie by Jennifer Grey and Patrick Swayze. Lake Lure is also a short 5 minute drive from the famous Chimney Rock Park if you want to take a rigorous hike to the top of the rock. It is worth it for the views alone.

102 Havnaers Point, Lake Lure
https://www.zillow.com/homedetails/102-Havnaers-Poin-Lake-Lure-NC-28746/2061539472_zpid/

219 Picnic Point Rd., Lake Lure
https://www.zillow.com/homedetails/219-Picnic-Point-Rd-Lake-Lure-NC-28746/99388902_zpid/

395 Tryon Bay Cir., Lake Lure
https://www.zillow.com/homedetails/395-Tryon-Bay-Cir-Lake-Lure-NC-28746/102232564_zpid/

Lake Fontana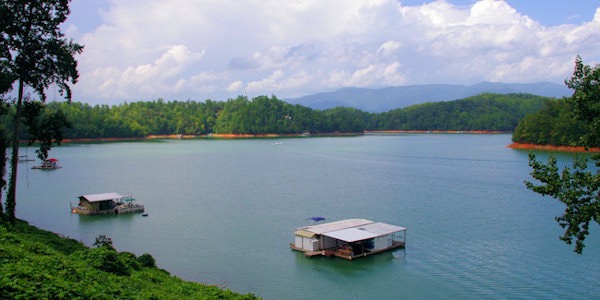 Lake Fontana is the largest lake in WNC located 1 hour and 15 minutes to the west. What is unique about this lake is that The Great Smoky Mountains National Park and the Pisgah National Forest own 238 miles of shoreline keeping this lake in its natural state. You can commonly see bald eagles and osprey circling the waters. It is also one of the only lakes that allows houseboats with over 400 houseboats moored along its shores. Many are available for rent. The Appalachian Trail also crosses over the top of the Fontana Dam making this a popular stop for hikers.

532 Tsali Point, Bryson City
https://www.zillow.com/homedetails/532-Tsali-Point-Bryson-City-NC-28713/243724719_zpid/

2850 Greasy Branch Rd., Bryson City
https://www.zillow.com/homedetails/2850-Greasy-Branch-Rd-Bryson-City-NC-28713/107060618_zpid/

Lake Santeetlah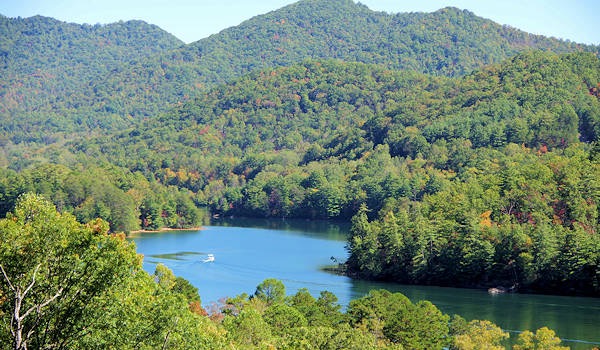 Lake Santeetlah is Lake Fontana's neighbor, located 100 miles west of Asheville near the town of Robbinsville. It is very serene and has been maintained in its most natural state with only 50 full time residents. This is a very popular lake for fishing where you can find bass, walleye, bluegill, crappie, bream and lake trout. It is also a great place to do some primitive camping.

67 Indian Trail, Robbinsville
https://www.zillow.com/homedetails/67-Indian-Trl-Robbinsville-NC-28771/194730020_zpid/

292 Pine Ridge Rd. Robbinsville
https://www.zillow.com/homedetails/292-Pine-Ridge-Rd-Robbinsville-NC-28771/299603302_zpid/

170 Forest Lakes, Robbinsville
https://www.zillow.com/homedetails/170-Forest-Lakes-Robbinsville-NC-28771/194731980_zpid/

Nantahala Lake


Nantahala Lake is a crystal clear, high mountain lake located at 3000' elevation near Topton, NC, making it the second highest lake east of the Mississippi. The Cherokee Indians lived in this area for over 4,000 years. Sometimes you can find broken pottery, spearheads, and arrowheads as a reminder of our Native American heritage. Created by the Nantahala Power Company in 1942 to support the war effort, the lake covers what was once the town of Aquone, a stagecoach stop between Asheville and Murphy. It has 29 miles of shoreline and is a great place for boating and fishing. The water is a bit chilly though so go on a warm day.
82 Reflection Dr., Topton
https://www.zillow.com/homedetails/82-Reflection-Dr-Topton-NC-28781/307048240_zpid/


10 Rainwater Point, Topton
https://www.zillow.com/homedetails/10-Rainwater-Poin-Topton-NC-28781/2067037101_zpid/


967 Indian Lake Rd., Topton
https://www.zillow.com/homedetails/967-Indian-Lake-Rd-Topton-NC-28781/65657124_zpid/