Friday, November 11, 2022 / by Amy Brown
We may be in the mountains but cycling is huge in the Carolinas! Not only are there new commuter bike routes being added every day along popular highways but there are a number of routes to enjoy the scenery.

Let's take a look at some of the most popular road bike areas of the city and where you can rent a bike if you are just here for a visit.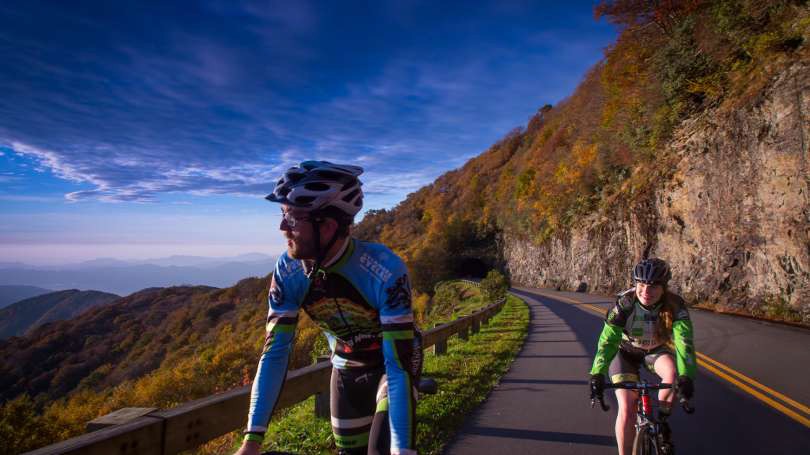 Riverside Drive
Riverside Drive features a bike lane for road cyclists and is a great option for a flat ride along the French Broad River without going too far outside of downtown Asheville. A common place to start for a ride on Riverside Drive is in the River Arts District where you can check out the array of artist studios, showrooms and art galleries from local artists before hitting the road. As Riverside Drive is a well-traveled route by both cars and cyclists you can make this ride as long or as short as you like with plenty of stops along the way.
Level of difficulty: Mild
French Broad River Greenway
French Broad River Park in West Asheville is home to vast green spaces speckled with large, old trees, and a paved greenway for biking. The 2.8-mile trail extends from the French Broad River Park and links to Hominy Creek Park and Carrier Park. The relaxing ride follows the river through a wooded area, through the parks and among some residential sites. It's a great, scenic route to get your muscles warmed up for a tougher ride.
Level of difficulty: Mild
Blue Ridge Parkway
Although the Blue Ridge Parkway is known as "America's Favorite Drive," it's also a favorite route among cyclists. The section of the Parkway that wraps around Asheville is fairly flat (outside of one strenuous climb of 3,000 feet), making it a great ride for both experts and beginners. To enjoy the Parkway safely on two wheels, there are specific rules that must be followed by cyclists, like riding in single file (as you will share the road with cars), at a reasonable speed and only on paved surfaces. From Asheville, the ride to the Mt. Pisgah Overlook at milepost 408.6 is well worth the 27 miles for the sweeping views of Pisgah National Forest.
Level of difficulty: Moderate
Elk Mountain Scenic Highway
Easily one of the most challenging routes, the Elk Mountain Scenic highway is a very popular cycling route among Asheville locals. Not for the faint of heart, this 60-mile route features continuous elevation gain, but rewards riders with stunning views of the Blue Ridge Mountains before reaching the Blue Ridge Parkway. Riders can choose to continue the trip onto the Blue Ridge Parkway up to Mount Mitchell, the highest peak east of the Mississippi River.
Level of difficulty: High
Where to Rent
If you don't make it to Asheville with your own set of wheels, no problem! There are plenty of places to rent riding equipment around town.
Located in the heart of downtown Asheville, Beer City Bicycles opened as a cyclist training center before evolving into a complete bike shop. In addition to top-of-the-line equipment like bicycles, helmets, jerseys and spandex, Beer City Bicycles offers the latest in online fitness testing, personal bike fittings and of course, craft beer on tap.
Those who may not be accustomed to Asheville's hilly terrain but don't want to miss out on the biking action should head to Asheville Adventure Rentals for a M2S electric-assisted fat tire bike. These special devices come equipped with 48-volt batteries that help them propel up to 28 miles per hour, meaning you can ascend a steep hill without breaking a sweat. As you can imagine, these bikes are very popular, so advance reservations are strongly suggested.
Liberty Bicycles
Liberty Bicycles has been locally owned and operated for 35 years, making Mike and Claudia Nix well respected within Asheville's biking community. Here you'll find everything from the perfect snack to a variety of mountain and road bikes for rent – that you can even reserve online! Their knowledgeable staff is ready and willing to help you select the best fitting bike to rent, as well the right accessories and clothing.