Monday, April 24, 2023 / by Amy Brown
This week saw a plateau in new listings, pending sales, and average sales price. As the economy works towards stabilization, we are seeing a flattening of the market (for this week anyway)...we will see how long it lasts as we are only in the very beginning of Spring.

There are a few factors affecting the plateau. The unemployment rate is slightly on the rise, we have had a contraction in the manufacturing sector, and we are nearing a full year of two short term bond yields being inverted indicating a strong sign of an imminent recession.

The National Association of Realtors predicts that activity will slow for at least a week as rate sensitive buyers adjust to the volatility. Freddie Mac's 30 year fixed mortgage rate increased for the first time in over a month due to "shifting market expectations". Freddie Mac's report states that unless rates drop into the mid 5 percent range demand will only modestly recover as home prices continue to remain high.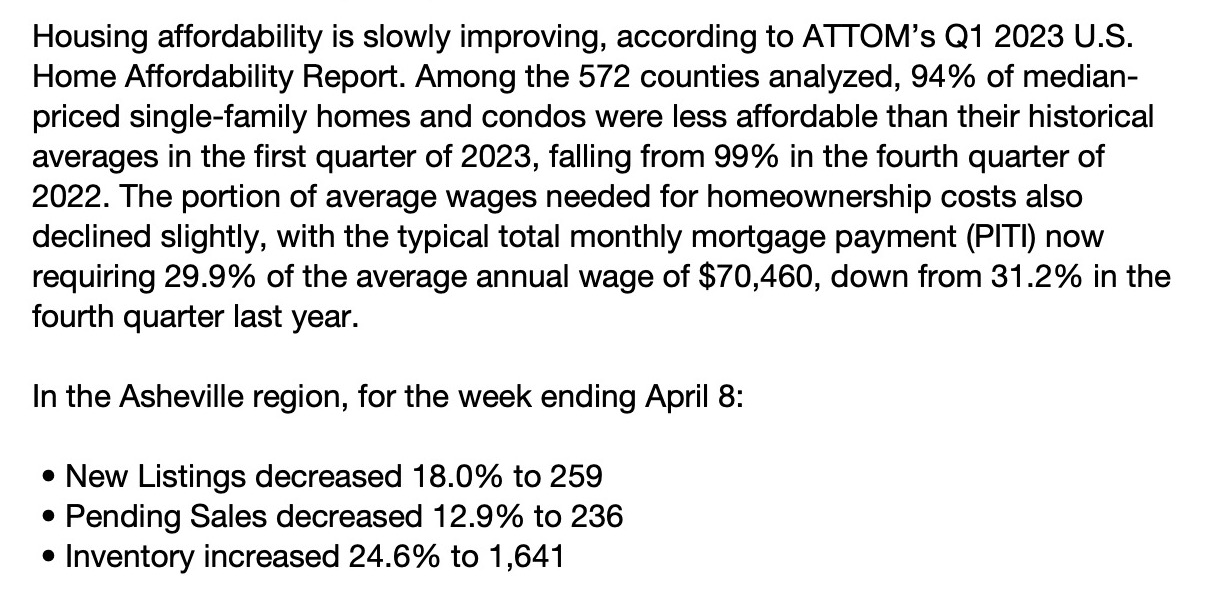 This week is a week to wait it out and see what the market holds, especially if you plan to finance. Depending upon the neighborhood, homes are still going fast but it is very house and location specific. Remain vigilant with your search if looking in a high demand area.

Today's mortgage rates:


30-YR. CONFORMING
6.497%

? 0.025

30-Day Range:
6.211%-6.616%

30-YR. JUMBO
6.597%

? 0.172

30-Day Range:
6.324%-6.675%

30-YR. FHA
6.412%

? -0.040

30-Day Range:
6.186%-6.525%

30-YR. VA
6.174%

? 0.080

30-Day Range:
5.777%-6.267%

30-YR. USDA
6.379%

? 0.007

30-Day Range:
6.164%-6.584%

15-YR. CONFORMING
5.876%

? 0.053

30-Day Range:
5.445%-5.969%
As always, I wish you a wonderful day and please call me any time with questions!