Monday, April 17, 2023 / by Amy Brown
A national look
Consumer Prices are Coming Down
Consumer Prices fell in March, supporting the notion that inflation remains in a downward trend. The headline Consumer Price Index (CPI), which includes food and energy, came in at 5% year over year, a full 1% decline from the 6% reported in February. This is the slowest rate since May 2021 and that is a good thing.


Fed Minutes Released
The Minutes from the March Fed meeting were released on Wednesday. There were no shocking details that moved the markets. In a further sign that the Fed is close to ending their rate hikes, all Fed members agreed that financial conditions would tighten due to the bank crisis which equates to further rate hikes.
Speaking of rate hikes, the chance of a .25% Fed rate hike in May is now 63%. Oddly enough, the financial markets are also pricing in as much as four rate cuts in the back half of 2023. If we see rate cuts by the summer, it would be a historically short amount of time between the last rate hike and first rate cut.

Bottom line: Home loan rates are near the best levels of the year. Spring is in the air and demand for housing is high and despite the lack of housing supply, opportunities exist.

What's happening in our local market in the last week


Average closing sales price is up by 14.3% to $644,085

New listings continue to decline, this week a decline of 13%

Percent of original list price received is up indicating high buyer demand with sellers receiving 98.6% of list price

Average showings until a home is under contract has taken a deep dive down to 12 showings, decline of 7.7%

Median days on market = 6

Pending sales are up by 15.6%

Here is the latest data through March 2023 as compared annually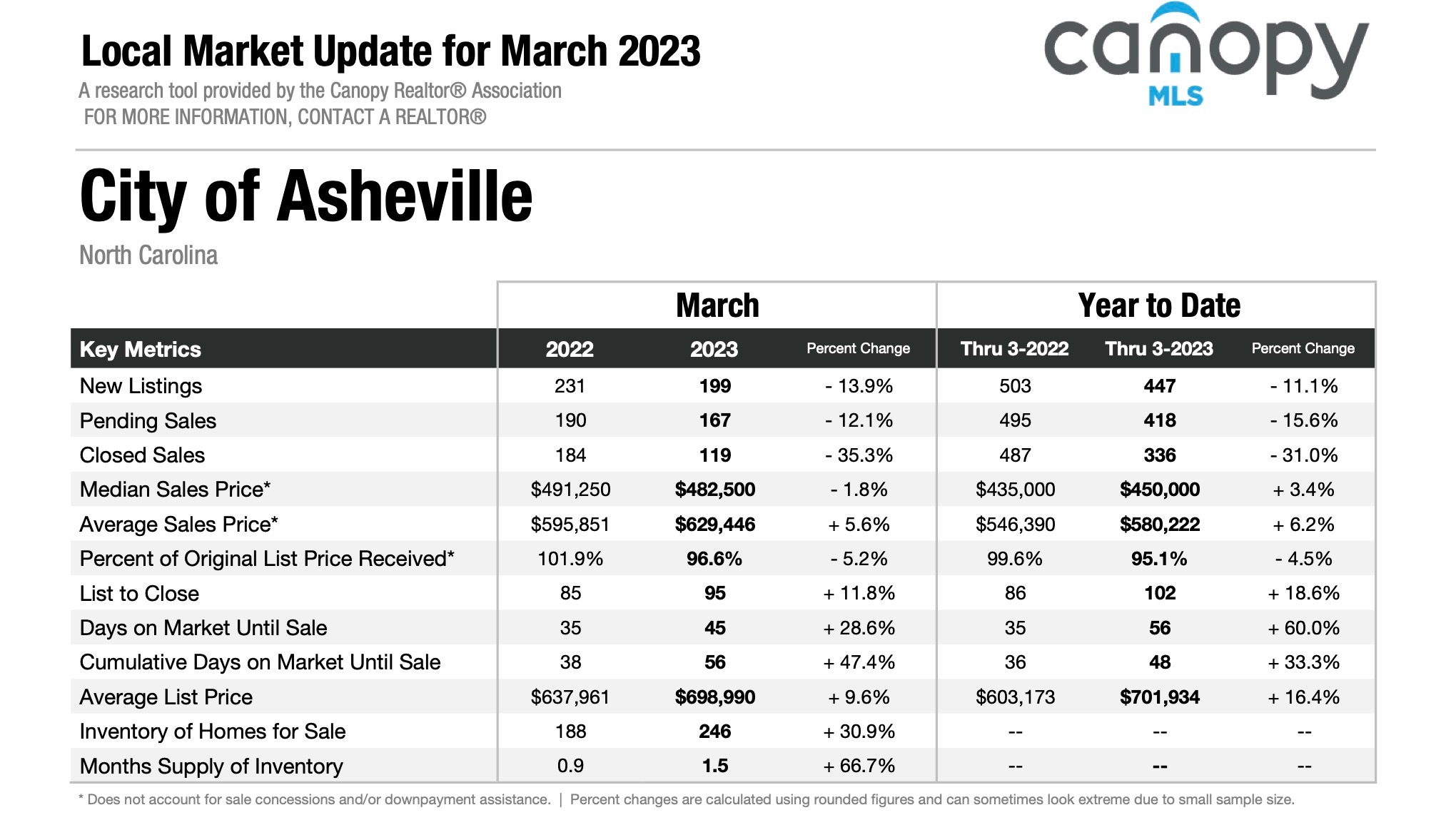 Today's mortgage interest rates


30-YR. CONFORMING
6.399%

? 0.122

30-Day Range:
6.211%-6.845%

30-YR. JUMBO
6.370%

? -0.186

30-Day Range:
6.324%-6.799%

30-YR. FHA
6.392%

? 0.114

30-Day Range:
6.186%-6.639%

30-YR. VA
6.027%

? 0.060

30-Day Range:
5.777%-6.501%

30-YR. USDA
6.450%

? 0.286

30-Day Range:
6.164%-6.701%

15-YR. CONFORMING
5.630%

? 0.025

30-Day Range:
5.445%-6.179%

Despite the mortgage interest rates we are seeing extremely high demand in the Asheville market. Homes in specific areas will be under contract in less than 1 day. Be vigilant in your search and check your email daily. We have only seen increases in buying trends week over week with no signs of slowing. Inventory is still very low so when you see your home be prepared to come in with a very strong offer. Homes listed in the $400-800K bracket are the most competitive.

Call me for showings any time!