Monday, January 16, 2023 / by Amy Brown
National look at the U.S. housing market as compared to the Asheville regional market (Buncombe, Haywood, Henderson, and Madison counties):
2022 was a turbulent year for the U.S. housing market, as inflation, spring interest rates, and elevated sales prices combined to cause a slowdown nationwide. Affordability challenges continue to limit market activity, with pending home sales and existing home sales down month-over-month and falling 37.8% and 35.4% year over year according to the National Association of Realtors. Higher mortgage rates are also impacting prospective, sellers, many of whom have locked in historically low rates and have chosen to wait until market conditions improve before selling their home.
New listings are down in the Asheville region by 27.2%. Pending sales have decreased 31.7%. But inventory has grown by 6.6%.
Prices have moved higher with the median sales price up by 4.4%. Days on market has increased by 2.8%. And we have 2 months of inventory indicating that supply has increased relative to demand.
Economists predict sales will continue to slow and housing prices will soften in many markets over the next 12 months with larger price declines projected in more expensive areas. However, national inventory shortages will likely keep prices from dropping too much as buyer demand continues to outpace supply. National economists predict a net neutral gain in home values for 2023.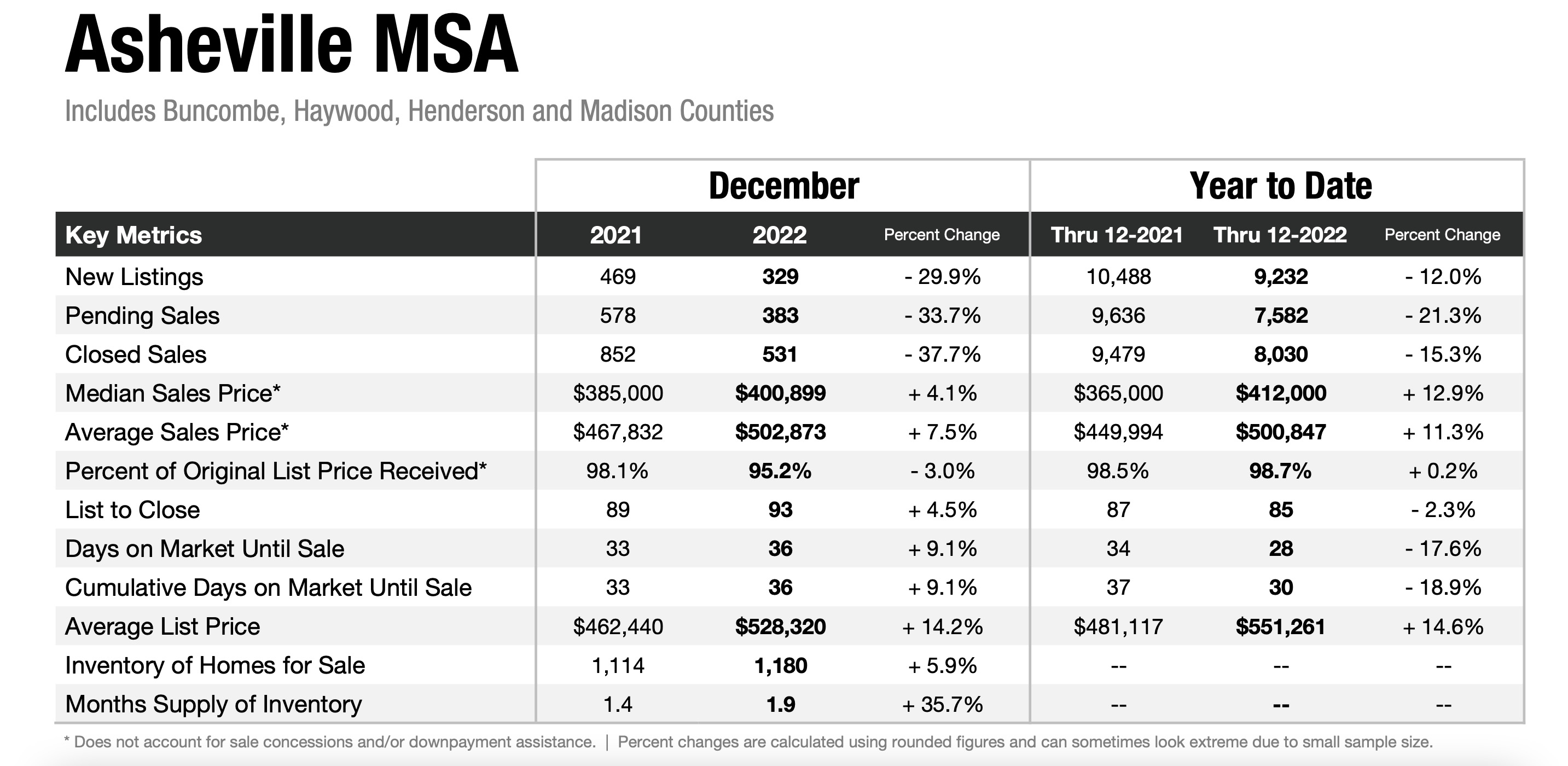 Asheville has been a predominantly cash market for many years causing home values to remain relatively unscathed by fluctuations in mortgage rates and the threat of recessions. However, for those homebuyers who are planning to obtain a mortgage, 2023 will a bit more difficult as higher interest rates decrease your buying power. As some will choose to take a break from your search this year, others do not have the same choice.
With that being inevitable, I have always been committed to providing you, my trusted clients, with the best real estate advice possible. I'm not sure how many of you know but my market center covers 21 counties in western and central NC, from Waynesville to Charlotte. I can also provide information and show you homes ANYWHERE in the entire state!
Throughout this coming year, I will be showcasing homes not only in the Asheville area but other areas that are more affordable or that may have a unique feature that you hadn't considered. This is my commitment to providing you with the best customer service possible in challenging times.
Today, you will see homes below in cities that you may not have thought of such as Banner Elk, Bryson City, and Spruce Pine. Consider me your passport and guidebook to all of North Carolina as we navigate the market challenges of 2023 together.
I also want to thank my past clients and my new friends to be for this wonderful honor, two years in a row! This is one of the most competitive markets in the nation and I couldn't have made this prestigious list without your help. I look forward to assisting your friends and family!