Tuesday, July 4, 2023 / by Amy Brown
As the scorching summer days approach, there's one event that brightens up the night sky and fills the air with a sense of awe and wonder: July 4th fireworks in Asheville. If you're seeking a memorable Independence Day celebration, look no further than this list.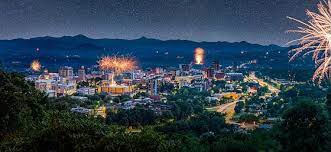 Ingles Independence Day Celebration: The free event at Pack Square Park starts with The Ultimate Air Dogs from 12-4 p.m. as cute puppies compete to see who can jump the furthest. Then, the main event begins, with food and live music starting at 4:30 p.m. Fireworks will begins at 9:30 p.m.
July 4th Dinner in the Park: Make your reservation at Twisted Laurel's downtown location and secure your spot to enjoy dinner on the patio across from Pack Square Park, host to a day full of activities including live music on their stage from 4-9 p.m. followed by the annual Ingles Independence Day Celebration fireworks. The restaurant opens at 11 a.m. to the public for lunch, dinner, and drinks, reserving the patio for ticketed diners only starting at 7 p.m. Call 828-331-1818 to reserve your patio seats.
Independence Day Fireworks Hike: This easy to moderate 1.5-mile hike is a perennial favorite for families and visiting friends! Celebrate the 4th of July with a moderate hike, and then view the sunset and Black Mountain's fireworks display from the peak of Sunset Mountain. Bring a picnic, water, folding chairs, cameras, and flashlights. Dress for inclement and chilly weather. The museum will provide watermelon and transport cargo to the summit. The cost is $35 for members and $50 for non-members.
Lake Julian Fireworks: Spend the day enjoying fishing, picnic areas, disc golf, outdoor games and more before the free fireworks show begins at 9:15 p.m. Reminder: cars aren't allowed in the park, but there will be shuttles available from Estes Elementary School to the park.

July 4th Celebration: Enjoy a buffet-style barbecue dinner, lawn games, live music from Darren Nicholson, and a bonfire with a s'mores bar for $85. The night will end with an exciting firework show around 9:30 p.m.

4th of July Fireworks: Grab your friends to compete in Team Trivia before watching some late night fireworks at Lookout Brewing Company in Black Mountain. Activities start at 6 p.m. and end around 10 p.m.
Tweestsie Railroad 4th of July Extravaganza: The park will open with extended hours from 10 a.m. to 9 p.m. for fun and festivities, ending the night with the biggest fireworks display in the region at 9:30 p.m. Visitors to Tweetsie Railroad in Blowing Rock enjoy a variety of interactive experiences including an unforgettable and exciting three-mile trip into the Old West on a train pulled by historic narrow-gauge steam locomotives. Other attractions include live shows, classic amusement rides, the Deer Park Zoo, gem mining, and more. Prices for the evening range from $40 to $60.