Tuesday, August 1, 2023 / by Amy Brown
Price drops are everywhere as the market shifts to a more buyer friendly scenario. We haven't seen this much of a change to a buyer friendly environment in years so if you are looking to purchase, now is the time!
According to Realtors Property Resource, out of the major residential areas in Buncombe county there are currently 145 homes for sale and out of those 130 of them have had price reductions this week!
Mortgage rates are holding steady despite the recent raise by the Feds and we are at 6.8% today for a 30 year conventional loan.
We currently have 3.5 months of inventory, a far cry from the 1 month or less that we have been holding with since 2020. This indicates a trend towards a balanced market heading into a buyer's market once inventory counts reach 6 months.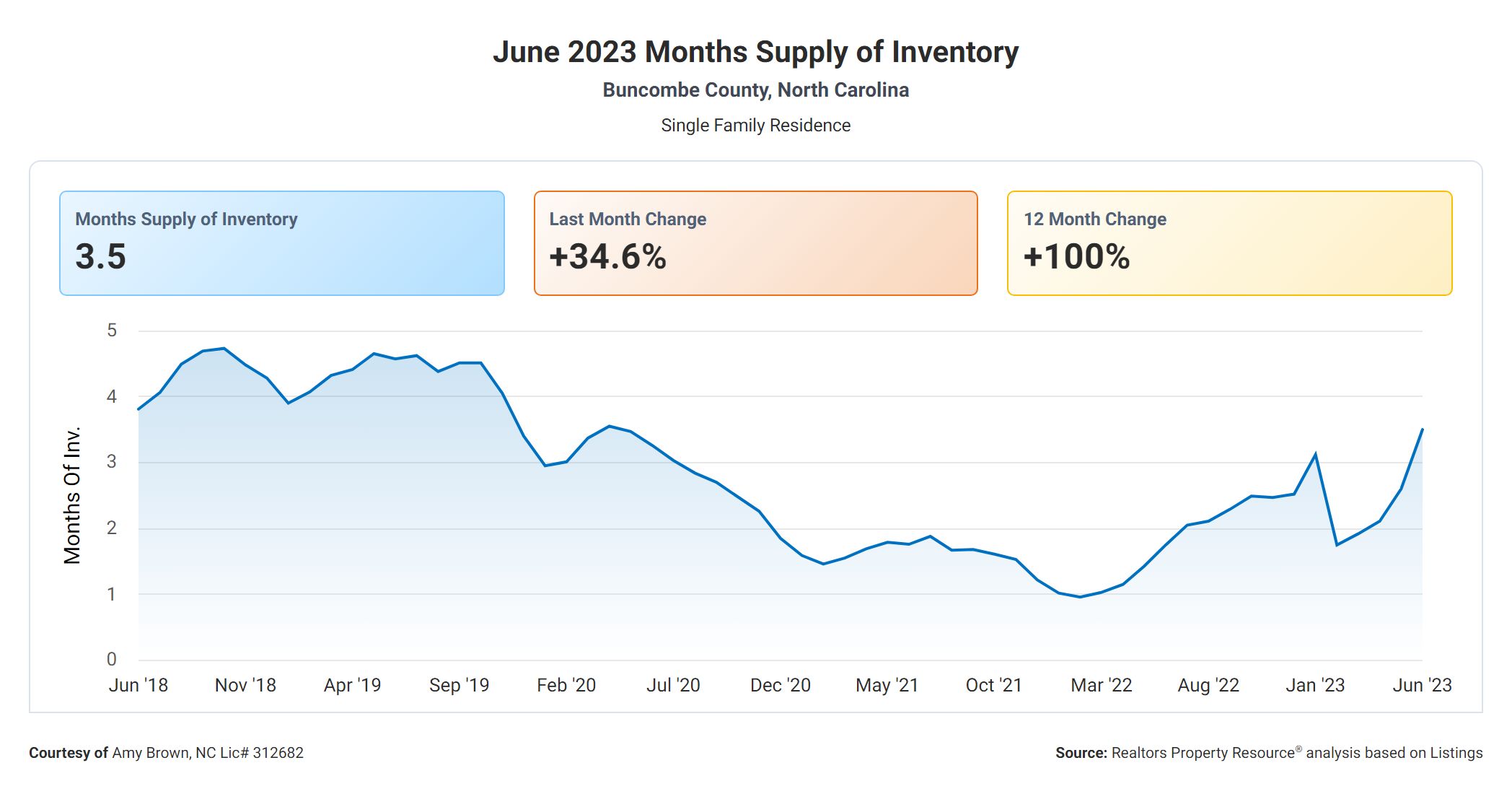 What's also interesting to note is that over the last 12 months, the Months Supply of Inventory has increased by 100%. This suggests that the market has become more balanced, giving buyers a bit more breathing room when it comes to making their decisions.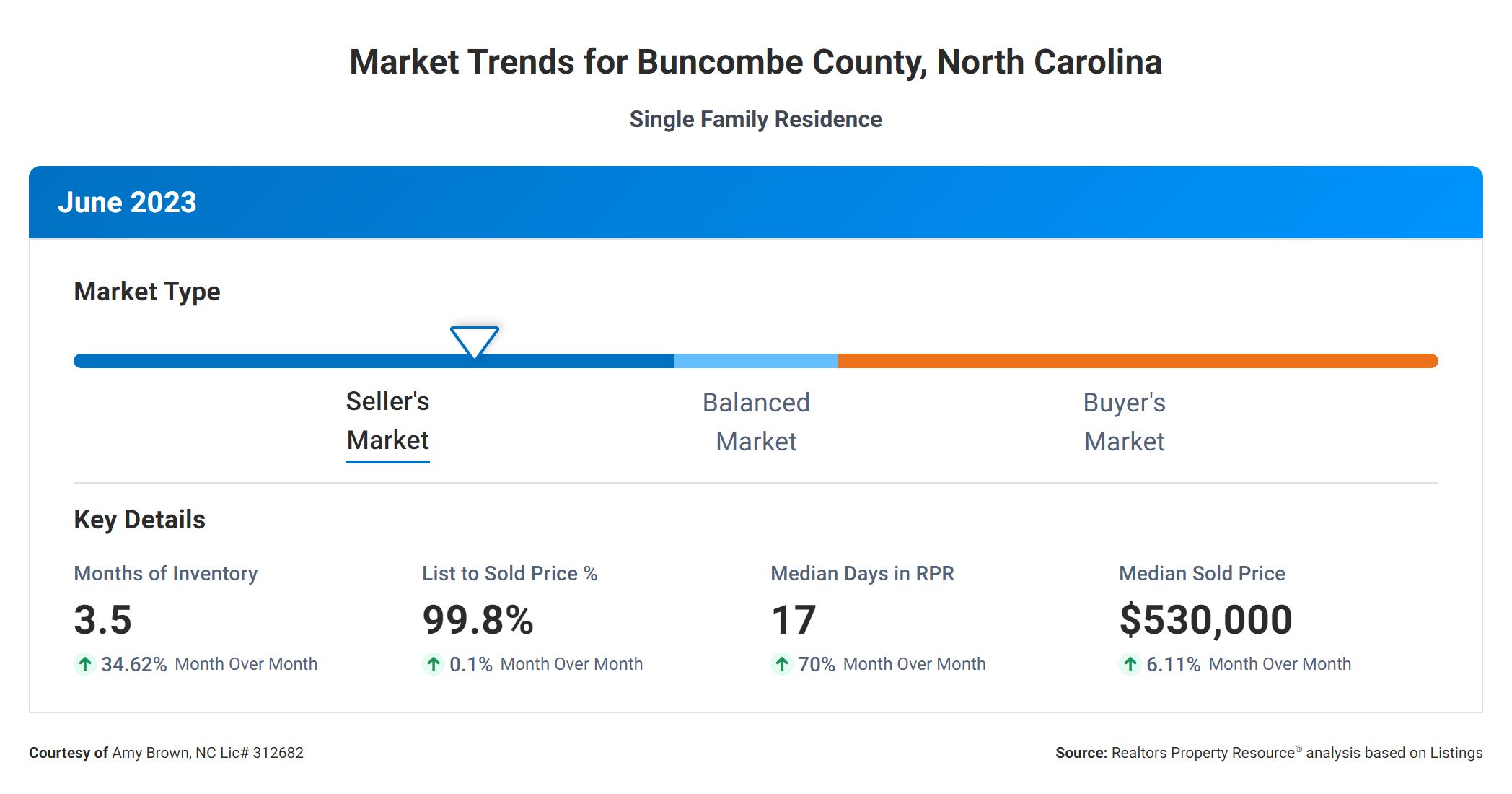 Now, let's talk about the List to Sold Price percentage. In Buncombe County, we're currently seeing a strong 99.8% List to Sold Price ratio. This means that sellers are receiving close to full asking price for their properties, but with the recent increase in price reductions I do not expect this number to stay this high for too much longer. If you need to sell, do it now!
Moving on to the Median days on market, we see that the average time it takes to sell a property in Buncombe County is just 17 days. This tells us that properties are still moving quickly, indicating a high demand from buyers looking to relocate, noting an increase in my personal clientele base from states like Florida, California, and New York.
And finally, let's discuss the Median Sold Price. Currently, the Median Sold Price in Buncombe County is sitting at a healthy $530,000. This figure represents the midpoint of all the homes sold in our area, and it's a great indicator of the overall market's strength, which is still very good, however, this number has reduced from the mid 600s back in the winter of 2022 and spring 2023.

Also, an important point to understand is that median sold price is not the same as median list price. The median list price that you will see when looking for a home to purchase is going to be on average $585,000; a price of about $330-340 per square foot. Also, the number of new listings coming on the market is falling creating a scarcity in selection and keeping the list price high. New listings are down by 12.2% countywide. I also want you to understand that the average home size in WNC is 1600 square feet so availability and cost of large homes comes at a premium.


So, whether you're a buyer or a seller, the current market conditions in Buncombe County are definitely worth paying attention to. With a balanced supply of inventory, sellers receiving temporarily strong offers for their homes, properties selling relatively quickly, and the median sold price at a more moderate level, there's plenty of opportunity for everyone. Just make sure that you are coming to the table with expectations that match availability!