Saturday, October 22, 2022 / by Amy Brown
Day #2 as we countdown to Halloween
The Biltmore Estate


It is not unlikely to imagine that the largest single family home in the nation would not also be home to a few spirits...but what if the family never left?
The Biltmore Estate was constructed from 1889-1895 and was the summer home of George Washington Vanderbilt and his wife, Edith. It sits on over 8,000 acres and has 35 bedrooms and 43 bathrooms.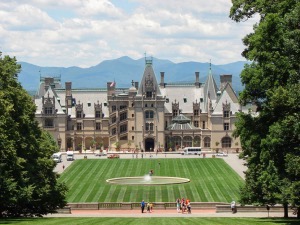 The home remained private until the Great Depression when in order to offset the expense of its upkeep, tours were open to the public. However, wings of the house remained private residences up until 1963 when the house became a historical landmark and was committed entirely to tourism.
While many ghost stories exist, there are some that are consistently told by visitors and staff alike.
The original family has remained in residence at their beloved home and they can still be found throughout the rooms along with their guests.
Edith frequently wanders the halls whispering the name "George" as she calls out to her husband, who is most often seen in the library reading a book. She also continues to host parties in the twilight hours as many have heard glasses clinking, laughter, and chatter in the Great Hall and on the lawn.
Apparitions are commonly seen on the great staircase and guests frequently feel cold spots, have eery feelings, and smell strange smells.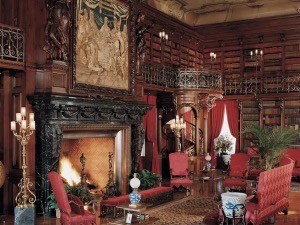 Another room consistent with paranormal activity is the swimming pool. Guests have reported being splashed with water and hearing the sounds of laughter echoing off the tiles.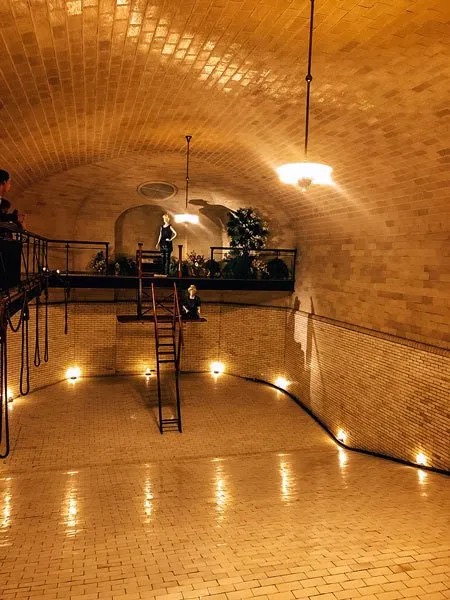 And don't forget the Vanderbilts' pets. One of the most eery apparitions of all is a headless orange cat that wanders the gardens.
The home also has some secrets of its own with hidden doors, secret tunnels, disguised rooms, and secret passageways. With over 180,000 square feet, the house itself remains a mystery.
Step into the Gilded Age and raise a glass to more elegant times...just be careful not to step on the cat.
https://www.atlasobscura.com/places/biltmore-secret-doors-hidden-passages